Spiral Dynamics is Instead Rainbow Dynamics
Posted by

Date

August 15, 2020
SPIRAL DYNAMICS FAILS FULL ACCOUNTING AND LIMITS
It's fundamentally a leftist pseudoscience, but we can fix that.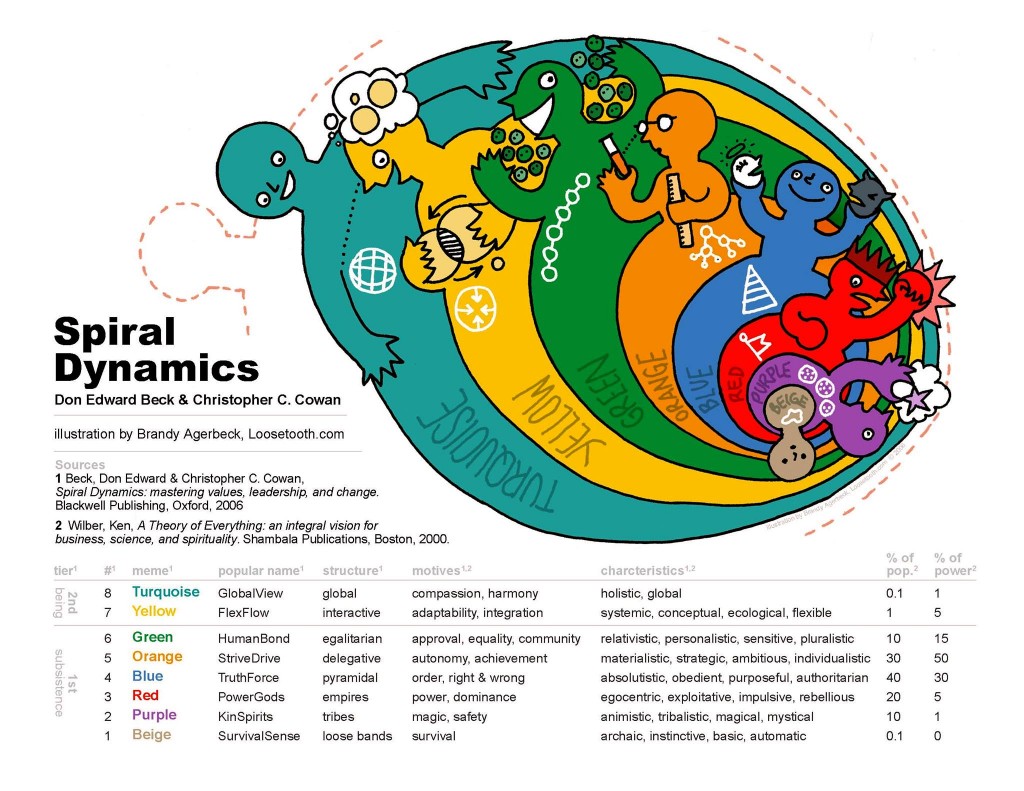 I'm Blue. Red<-Blue->Orange (conservative libertarian)
If you add the extremes of female end of the spectrum like the chart begins of the extremes of male end of the spectrum then this 'color spectrum' just reflects the male to female brain structure and resulting bias. In other words, he's cherry-picking the negative male (authoritarianism) an ignoring the negative female (communism).
By representing it as a hierarchy he reinforces the left's message. By representing it as a male-female spectrum we find 'choice' (rule of law) as the top of a triangle (orange).
So as usual "stick with consistency between physics, biology, and sentience" and avoid these arbitrary organizations of information.
<– self-female-internal-prey — psychotic – solipsistic – || empathic <- balanced -> analytic || – aspie – psychopathic — self-male-external-predator –>
<-- Female ------------Ascendant Male - Established Male -->
...Socialist ..........Libertarian .....Conservative.......
...Global Empathic.....Local Pragmatic..Tribal Analytic......
...Plenty-Consumption..Trade ...........Scarcity Capitalization
P-LAW LESSON
Spiral Dynamics is an excample of a failure of "Limits" and "Full accounting", and it violates the laws of (a) extrapolating a line instead of discovering a curve, (b) equlibria (c) between three axis that are necessary in all evolutionary systems.
THE CRAYON LESSON
There isn't any truth that can be written in crayon (non-equlibrating, mono-dimensional systems). Humans evolved to throw things. Our consciousness tends to think in the most trivial 'linearly predictable' terms. We fail to educate people out of linear and into equilibrial patterns of thought. In other words, most humans are still medieval in mind.
CAUSALITY
What causes instinctual differences in preference for these conditions?
So try the Testimonial checklist:
1 – realism, naturalism, operationalism? (unanswered)
2 – internally consistent? (yes)
3 – operationally possible (unanswered)
4 – externally correspondent (sure)
5 – rational (yes)
6 – reciprocal (unanswered)
… … fully informed (no)
… … free of negative externality (fails)
7 – limited (no) and complete (no)
8 – warrantable and liable (no)
So? Internally consistent, externally correspondent, rational but noncausal and incomplete.
It's incomplete because it doesn't take communal to the point of failure(limits) while it takes individual to the point of failure (limits). This creates the impression that one is looking at a hierarchy rather than an equilibrium.
(All systems require three points, not two, in order to produce an equilibrium. Or rather an equilibrium compromise(center) evolves between two or more limits. The entirety of the physical universe consists of equilibrium (states) between extremes. ) For example, personalities may include many dimensions but they bias male or female and they cluster in three archetypes: female, ascendent male, and dominant male.
Equilibrium in this case is the same as all other human instinctual, ethical, moral, political, conceptual: Dominant Male Force (red), Ascendant Male Empirical Trade (orange), and (Undermining) Female Empathy (Off the chart).
So it should be "Rainbow Dynamics" not Spiral Dynamics.
Authoritarian Hierarchy (?-genic)
... Beige (Totalitarianism)
... ... Purple 
... ... ... Red 
----------
... ... ... ... Blue 
... ... ... ... ... Orange (Markets) (Meritocracy) (Eugenic)
... ... ... ... Green 
----------
... ... ... Yellow 
... ... Turquoise 
... [Pink?] 
(Communism)Authoritarian Equality (Dysgenic)

1 – How do you make SD consistent with the rest of the explanation of causality? (biology)
2 – What is the operational means of describing it? Cause? I just changed it to causal. (Reproductive strategy.)
3 – How can our interests AFFORD to swing from individual to communal? (because of market wealth)
4 – What happens if we reach communal or global? (Failure)
5 – Is anything communal calculable or global? (No)
6 – To whose disadvantage is this global-harmony communal communist condition? (The Best short-term, evolution medium-term, human survival long-term.)
7 – Why do authoritarian France, China, Russia, Turkey, Iran, North Korea exist? (The pursuit of Power to Stay in power).
8 – Why do only religions practice globalism? (underclass expansion of dysgenia)
9 – Isn't that what separates a religion (imaginary) from a government (material)? (the Material reality)

The spiral is instead a description of 'population' we're calculating on behalf of, and population we can afford to calculate on behalf of is a description of wealth to do so.

ADDING SPIRAL DYNAMICS TO BIG 5 AND MEYERS BRIGGS.
So, just as I've explained the causality and difference between big 5 vs the Meyers Briggs, we can add spiral dynamics to the list. All of these 'ways of thinking' are incomplete because they discontiguous with causality.


The underlying causality is the structure of the brain and the structure of the brain that gives rise to differences begins almost entirely by sex differences, the quality of the brain. The 'quality' of development of the brain, and the sequence of human development in the brain of a given quality.

So it's not that any of these three systems of thought is 'false' it's that they are incomplete, and as incomplete they serve two undesirable ends: (a) they prevent knowledge of causality (they cause ignorance), (b) they encourage inductive and deductive falsehoods. And so half-truths pollute the informational commons just as much as lies do.

In the case of Big 5 it obscures male-female (the undesirable truth); MB doesn't obscure male-female, but obscures neuroticism (the negative); Spiral Dynamics obscures the negative consequences of 'global' (unaccountable, and unmeasurable) thought (the negative), and that the equilibrium point is markets.

All these systems obscure the undesirable truth. They put forth a FALSE PROMISE THAT BAITS INTO HAZARD.

Karl Popper's short, wonderful essay, on The Sources of Knowledge and Ignorance, teaches a very important lesson: that useful but incomplete, or useful but false knowledge, causes ignorance. (Hence my stance on Abrahamism). Likewise, Hayek's Use of Knowledge in Society examines the problem at scale and explains why market trial and error are the unintuitive but optimum means of human organization.

Cheers