Hierarchy of Group Strategy
Posted by

Date

May 22, 2020
Apr 14, 2020, 9:13 AM
MORAL FOUNDATIONS (INSTINCTS)
SOCIALIST – EQUALITARIAN – FEMALE
(HERD)
(Consumption – Short Term – Anti-Property)
Offer: Care, Affection, Sex. Weapon: Undermining, Disloyalty.
1) Care/Harm: Redistributive Property
(Welfare, Charity, Land reform)
And;
2) Fairness/Cheating: Proportionality. Cooperative Property (Sharing, Antitrust laws, Sport rules)
LIBERTARIAN – EGALITARIAN – ASCENDENT MALE
(SOLITARY HUNTER)
(Production – Medium Term – Property – Exchange)
Offer: Exchange. Weapon: Boycott (deprivation)
3) Liberty/Oppression: Personal Property
(freedom, liberty, self determination, opportunity seeking)
And;
4) Truth/Face: reciprocity information Property
(truth before face:M vs face before truth:F)
ARISTOCRACY – HIERARCHY – DOMINANT MALE
(PACK)
(Capitalization – Long Term – Common Property)
5) Sanctity/Degradation: Disgust: Normative Property
(Norms, Manners, Ethics)
And;
6) Loyalty/Betrayal: Interpersonal Property
(Kinship, Ethnicity, Nationhood)
And;
7) Authority/Subversion: Institutional Property
(Religion, Hierarchy, Law)
MORAL FOUNDATIONS
STEP ONE REPRODUCTIVE STRATEGY
STEP TWO –  CLASS STRATEGY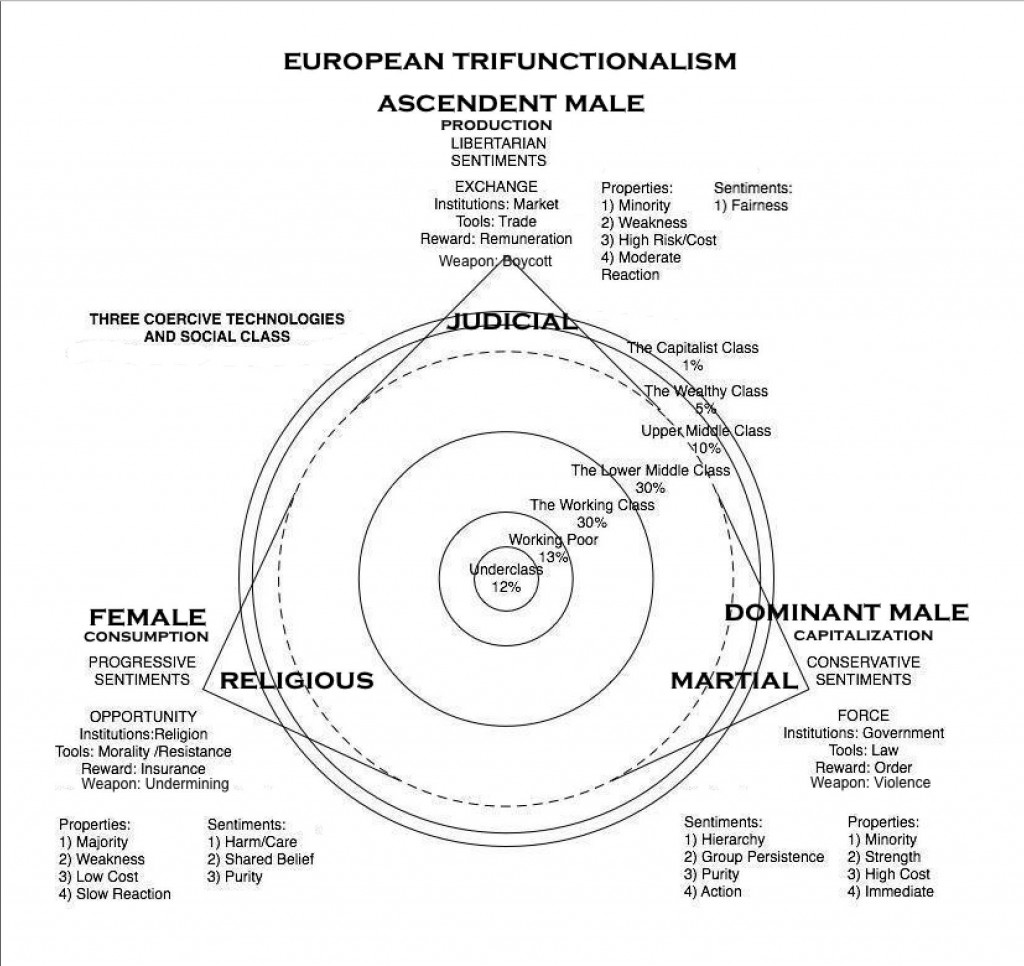 STEP THREE – POLITICAL STRATEGY

STEP 5 – FOUR STRATEGY
STEP FIVE – TERRITORY AND STRATEGY
—"I see these attributes as linked to their geography and tied living situations."—Daniel Parker
Correct. See the first row. I usually add this:
Athens > London – Naval
Sparta > Prussia – Land
Rome > America – Empire
-and-
France > Byzantium – fracture point
Levant > Ashkenazi – underminer
Arabia > Islam – invader
The battle between the feminine magical thinking and the masculine empirical thinking.